Manaras Gear Head Door Openers
Canuck Door Systems installs Manaras Gear Head Door Openers. The Manaras overhead door openers are the most reliable Gear Head openers for commercial use. The manufacturer designed industrial Gear Head Door Openers for using any door with a sprocket, shafts, and chain as the driving elements. Moreover,  you can install them on vertical or high lift doors, rolling doors, standard charge sectional doors, and grilles. Also, they can be mounted wall, hood, or shelf.
Get Quote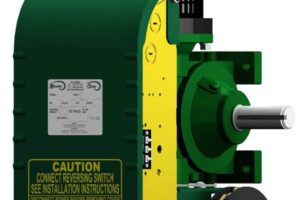 FEATURES
These doors have various models. Also, they have optional very heavy-duty models. Moreover, they are models with Host-a-Matic. Finally, they have a 2-year warranty.
BENEFITS
Gear Head Openers, "wall mount operators,"  are different from the other options as they are mounted on the wall to the left or right of the overhead doors or the front of the hood. Also, the manufacturer designed them to work for full vertical-lift, standard-lift, and high-lift doors.
Maximized workspace
Many businesses need more space in their workshop to store more materials or products. Therefore, Gear Head openers help to create that extra storage space.
Work with Different Door Systems
Gear Head Openers could work with sectional overhead doors, rolling doors, or security grilles. Also, they are designed for use with any overhead door with sprockets, shafts, and chains as the driving elements.
MANTRAS GEAR HEAD DOOR OPERATORS INSTALLATION
Canuck Door Systems is a Manaras dealer, the leading manufacturer of commercial overhead door operators in North America.
Also, we install Manaras Gear Head Door Operators in the Toronto, Mississauga, Brampton, Vaughan, Richmond Hill, Markham, Hamilton, Burlington, Oakville, Pickering, Ajax, Oshawa, Aurora, Newmarket, and throughout South Ontario is no exception.
Canuck Doors Systems also installs Micanan Trolley Door Openers and Micanan Jackshaft Door Openers.