Micanan Jackshaft Door Operators
Canuck Door Systems installs various Micanan Jackshaft Door Operators. This industrial Overhead Door Operator is designed for industrial and commercial sectional doors with vertical or high lift tracks and small rolling grilles.
Get Quote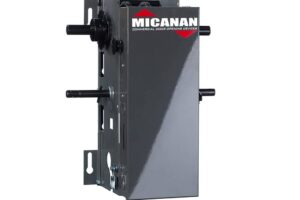 FEATURES
There are a lot of useful features. Firstly, the door Speed 8"-12" is per second. These doors have a warranty of 2 years. Also, they have an onboard receiver and antenna. Plus, they have a  radio control terminal strip (external). Besides, it is a continuous-duty industrial motor with overload protection. There is also a removable motor without affecting limit settings. Additionally, they have an adjustable friction clutch and heavy-duty V-belt.
BENEFITS
Jackshaft Operators or "wall mount operators"  are different from the other options as they are mounted on the wall to the left or right of the overhead doors or the front of the hood. Also, Micanan designed them to work for full vertical-lift, standard-lift, and high-lift doors.
Maximized workspace
Many businesses need more space in their workshop to store more materials or products. Also, Jackshaft operators help to create that extra storage space.
Work with Different Door Systems
Jackshaft Operators could work with sectional overhead doors,  rolling doors, or security grilles.
Good for irregular spaces
High usability in irregular spaces. Also, the trolley systems that use rails require at least 48 inches of clearance above the overhead doors, which some businesses don't have. Moreover, suppose some buildings have pipes or boilers positioned near the ceiling. In that case, there's a chance these items will block the area that a trolley operator requires, making the jackshaft operators the ideal choice.
MICANAN JACKSHAFT DOOR OPERATOR'S INSTALLATION
Canuck Door Systems is a dealer of Micanan, the leading manufacturer of commercial overhead door operators in North America.
Also, we install Micanan Jackshaft Door Operators in the Toronto, Mississauga, Brampton, Vaughan, Richmond Hill, Markham, Hamilton, Burlington, Oakville, Pickering, Ajax, Oshawa, Aurora, Newmarket, and throughout South Ontario is no exception.
Canuck Doors Systems also installs Micanan Trolley Door Openers and Manaras Gear Head Door Openers.