About Us
Opening Doors to Business and People
Canuck Door Systems Co. is a leader in the installation and service of glass and aluminum doors, overhead garage doors, loading dock systems, hollow metal doors, security grills, operable walls and partitions in Toronto and the GTA. All of the services we provide are about enhancing the flow and convenience in your business, improving productivity and safety. For over 38 years, Canuck Door Systems Co. has assembled a fine team of qualified and innovative people to guide the Company to the premier position it currently enjoys.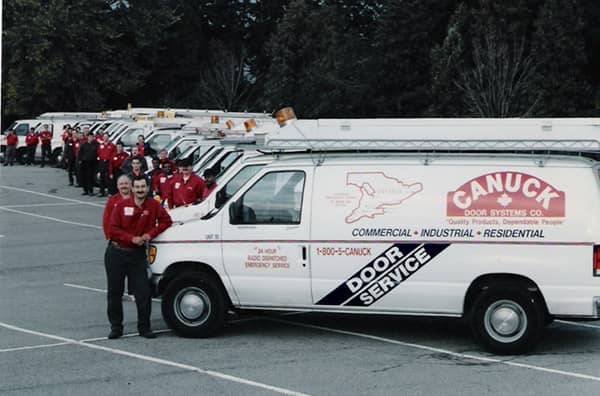 One-Stop Shop for All Your Doors Needs
Canuck Door Systems Co. offers a comprehensive range of modern and automatic products and services for the front, back, and interior of your building, allowing you to rely on one contractor for all your doors and windows needs. Our product categories include but not limited to storefronts, glass and aluminum doors, hollow metal doors, operable walls, folding partitions, overhead doors, garage doors, automatic sliding doors, fire rated doors (steel and wooden), rolling steel doors, frameless glass doors, traffic doors, security grills, loading docks levelers and shelters, cold storage doors, specialty hospital doors, gate operators, etc.
CONTACT US
Enquire about our Preventative Maintenance Plan (PMP) which offers uninterrupted door service at a fraction of a regular call.
Contact
History
Since its inception in 1979, Canuck Door Systems Co. has followed a corporate mandate set by its founder Bruce N.W. Scott: "To serve the community, with quality products and dependable people."  This mandate is the cornerstone of the steady growth that has made Canuck Door Systems Co. a significant player in the door service and installation industry across Toronto, GTA, and Southern Ontario. From a modest beginning, as a door company specializing in the installation of overhead garage doors in the Toronto area, it has grown to embrace all facets of the door and dock service and installation business; from automatic entry systems to hydraulic load dock leveler. Canuck Door Systems Co. considers "each and every employee, as an invaluable asset." It is our team attitude that has helped Canuck become a vibrant door company that can count some of Canada's major retail, commercial and institutional business leaders as satisfied customers. We are proud to have serviced many happy customers including: C.N. TOWER, CADILLAC FAIRVIEW, CASINO RAMA, CITY OF ETOBICOKE, CP RAIL, EATON CENTRE, FEDERAL EXPRESS, FORD MOTOR COMPANY, HARRY ROSEN STORES, HOLIDAY INN, HUDSON'S BAY, KODAK, LABATT'S, L.C.B.O.,MCDONALD'S, TIM HORTON'S, MENASCO AEROSPACE, ONTARIO MINISTRY OF HEALTH, ONTARIO MINISTRY OF TRANSPORT, NORTH YORK HOSPITAL, ROYAL BANK, RYERSON UNIVERSITY, SEARS, THE KEG,TORONTO DOMINION BANK, TOSHIBA, UNIVERSITY OF TORONTO, WAL-MART, HILTON, SHERATON, YORK UNIVERSITY, etc. This is just a few of virtually thousands of accounts that Canuck Door Systems services on a regular basis. We look forward to your company joining our ever-growing list of satisfied customers.
Area of Operation
Canuck's sphere of operation across Toronto, GTA, and Southern Ontario includes Hamilton to Oshawa and north to Midland and Sutton. In staying up to date with recent alarming trends, special emphasis has been placed on keeping current with high tech security products and access control systems. Canuck Door Systems Co. takes great pride in being your One-Stop, All-Purpose Door Company, with the capability of meeting your every need: from your front entry system to your shipping and receiving docks, with specialists for every area.
CALL CANUCK NOW
1-800-522-6825
for immediate service or installation quote!
CALL NOW