Patio Doors
Patio Doors can transform your home with a unique, modern twist. They come with several valuable benefits that can improve any house. These doors help a homeowner to reduce energy bills, enhance natural lighting, and maximize space. Canuck Door Systems installs high-quality Aluminum and PVC sliding Patio Doors in residential, commercial, and high-rise buildings. These doors are manufactured of high-quality extruded PVC material with an aluminum or wood core frame, providing an energy-efficient patio door that is an ENERGY STAR Qualified product.
Vinyl Sliding Patio Doors
Canuck Door Systems installs a variety of Vinyl Sliding Patio Doors to meet and exceed the expectations of architects, designers, and consumers. The design of these doors allows a wide variety of colors, and provides excellent thermal performance and trouble-free operation. Furthermore, the vinyl patio doors are ideal for residential houses, condos, apartment buildings, and other high-rise applications.
See More
Aluminum Sliding Patio Doors
Canuck Door Systems has installed a variety of Aluminum Sliding Patio Doors for over four decades. The Aluminum Sliding Patio Doors are a lightweight but efficient and reliable product, and you can use them in many applications, such as a storm door and screen room to enclose a porch or swimming pool. Additionally, these doors are ideal for residential houses and low-rise applications.
See More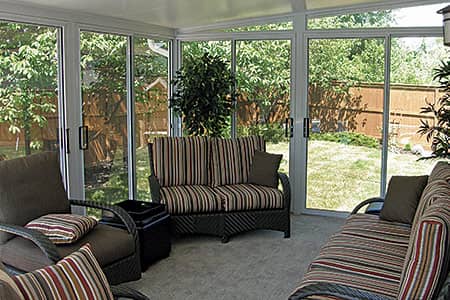 One-Stop Shop for All Your Patio Door Needs
Canuck Door Systems Co. offers a comprehensive range of Patio Doors. Canuck's technicians install the product across Greater Toronto Area and Southern Ontario. For over 40 years, we have assembled a fine team of qualified and innovative people to guide the Company to the premier position it currently enjoys.
CALL CANUCK NOW
1-800-522-6825
for immediate service or installation quote!
CALL NOW