Glass Aluminum Folding Security Grilles
Canuck Door Systems can install a variety of  Glass Aluminum Folding Security Grilles. Firstly, the high-performance tempered glass model offers excellent visibility and exceptional protection. In addition, these doors are perfect for stores and banks. Also, they are excellent for any other location that requires both maximum visibility and secure closing.
Get Quote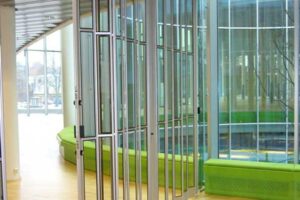 FEATURES
The Security Grilles come with many amazing features. The finish is in the clear anodized or acrylic paint in white, black, medium bronze #40, light bronze #26. Secondly, the manufacturers make the doors with high-performance tempered glass. In addition, you can optionally choose sandblasted tempered glass. Lastly, the Security Grilles come with various types of locking systems
SPECIFICATION
 Curtain
Firstly, the manufacturers construct the curtain with 6″ (152mm) wide modules linked together by a continuous aluminum hinge. Also, these hinges can hold tempered glass panels 1/8" (3mm) thick and 4-3/4" (121mm) wide. Thirdly, a vinyl extrusion will protect each glass panel at its perimeter within the full height of the hinges. Besides, an aluminum panel 4″ (102mm), fits the top and bottom of each section. To conclude, this panel consists of an aluminum extrusion 1/16" (1,6mm) thick and composed of modules with a 15° angle between them to facilitate the closure's operation.
Locking
The lead post shall be equipped with a hook bolt lock with cylinders on each side. In addition, the lead post shall engage a full-height wall jamb. The trailing post shall be self-locking at the top and bottom inside the storage pocket. Free-floating intermediate posts are at all curves and are at recommended intervals of 10 feet (3m) or 5 feet (1,5m) for countertop units. Also, the manufacturers equip intermediate posts with self-adjusting spring-loaded drop bolts activated from the inside only.
Track
You have to hang the curtain from an overhead track 1-5/16" (33mm) wide by 1-9/16" (40mm) high. Track shall be tempered aluminum alloy 6063-T5. Also, where required, curves shall be 14" (356mm) radius standard.
Stacking
Stacking shall not exceed a depth of 1.15" per foot of closure width plus 3" for each post (lead, end or intermediate). (95mm/lin. m + 76mm per post). Full egress doors add 7" (178mm).
Finish
Finish shall be standard clear anodized or acrylic paint in white, black, medium bronze #40, light bronze #26.
GLASS ALUMINUM FOLDING SECURITY GRILLES  INSTALLATION
Canuck Door Systems is a dealer of the Mobiflex, the leading manufacturer of security grills in Canada.
We install glass aluminum folding security grilles in the Toronto, Mississauga, Brampton, Vaughan, Richmond Hill, Markham, Hamilton, Burlington, Oakville, Pickering, Ajax, Oshawa, Aurora, Newmarket, and throughout South Ontario is no exception.
Canuck Door Systems can also install Polycarbonate Folding Security Grilles, Perforated Steel Folding Security Grilles, and Open Style Folding Security Grilles.