Chamberlain Chain Garage Door Opener
Canuck Door Systems installs a variety of Chamberlain Chain Garage Door Openers. This Chamberlain Chain Garage Door Opener has industrial-strength chain drive and is built with durability in mind for reliable performance.
Get Quote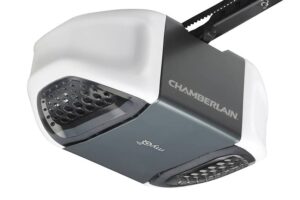 FEATURES
The Chamberlain Chain Garage Door Opener comes with many features. Firstly, it comes with the free MyQ Smartphone App and Built-In Wi-Fi®. Secondly, it sends Real-Time Alerts via email or pushes notifications to indicate the status of the garage. Thirdly, you can Control and Monitor the opener from anywhere using mobile devices. Furthermore, it has two three-button remote controls. Additionally, the AC Motor power options are 1/2HP, ¾ HPS, and 1-1/4 HPS. Moreover, an industrial-strength chain drive system provides years-long durability. Also, it comes with optional laser parking assist feature
BENEFITS
Strength
A belt drive opener may struggle to lift two-car garage doors. A chain drive opener will have no such problems. Also, there isn't a danger that they will slip in the process. Additionally, It means it is slightly safer as well than a belt drive opener.
Dependability
A chain drive opener will outlast belt drives by a fair degree if it has proper maintenance. Also, this kind of opener is good to go no matter the temperature or humidity.
Availability
Like belt drive openers, chain drive garage door openers are available just about anywhere. Furthermore, they will work at the big box stores, at any home improvement center, or through garage door installation companies.
Price
Chain drive openers are the least expensive type of garage door openers on the market
CHAMBERLAIN CHAIN GARAGE DOOR OPENER  INSTALLATION
Canuck Door Systems is a dealer of the Lift Master, the leading manufacturer of garage doors in North America.
We install garage door openers in  Toronto, Mississauga, Brampton, Vaughan, Richmond Hill, Markham, Hamilton, Burlington, Oakville, Pickering, Ajax, Oshawa, Aurora, Newmarket. In addition, we install them throughout with no exception.
Canuck Doors Systems also installs Aluminum Glass Garage Doors, Fiberglass Garage Doors, Insulated Steel Garage Doors, Belt Drive Liftmaster Garage Door Opener, Belt Drive Chamberlain Garage Door Opener, and Liftmaster 8500 Jackshaft Garage Door Opener.