Belt Drive Chamberlain Garage Door Opener
Canuck Door Systems installs a variety of Belt Drive Garage Door Openers. This Belt Drive Chamberlain Garage Door Opener is quiet enough to disturb adjacent living spaces and robust sufficient to open your garage door. These openers have a Wi-Fi connection.
Get Quote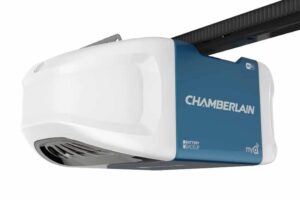 FEATURES
The Belt Drive Chamberlain Garage Door Opener comes with many features. Firstly, it comes with the free MyQ Smartphone App and Built-In Wi-Fi®. Secondly, you will get Real-Time Alerts via email or push notifications to indicate the status of the garage. Thirdly, you can Control and Monitor the opener from anywhere using mobile devices. The AC Motor power options are 1/2HP, ¾ HPS, and 1-1/4 HPS. Moreover, the Belt Drive system provides quiet, maintenance-free performance.
BENEFITS
A belt drive opener is much quieter than a chain drive opener. This is important if a bedroom sits on top of the garage. Moreover, the belt drive opener reduces the noise when the door closes or opens by up to 30%.
The rubber belt helps lessen the noise from the door opener because it is a smooth loop traveling around the track. Instead, the chain drive opener has a clunky metal chain. Furthermore, a chain is louder than a rubber belt because of material causes it. Also, there is a lot of jerking around, which makes for additional noise.
A belt drive garage door opener costs more than chain drive openers. However, having a large decrease in the sound a garage door will be making, it will be worth putting the extra money into it.
BELT DRIVE CHAMBERLAIN GARAGE DOOR OPENER  INSTALLATION
Canuck Door Systems is a dealer of the Lift Master, the leading manufacturer of garage doors in North America.
We install garage door openers in  Toronto, Mississauga, Brampton, Vaughan, Richmond Hill, Markham, Hamilton, Burlington, Oakville, Pickering, Ajax, Oshawa, Aurora, Newmarket, and throughout South Ontario is no exception.
Canuck Doors Systems also installs Aluminum Glass Garage Doors, Fiberglass Garage Doors, Insulated Steel Garage Doors, Belt Drive Liftmaster Garage Door Opener, Chamberlain Chain Garage Door Opener, and Liftmaster 8500 Jackshaft Garage Door Opener.