Retail Impact Traffic Doors
Canuck Door Systems offers the supply and installation of Retail Impact Traffic Doors. These doors are designed for light motorized traffic, pallet jacks, carts, and personnel in high-volume retail environments. Moreover, this kind of door has a full-height aluminum back spine and complies with all USDA sanitation requirements. Plus, they are ideal for high moisture and washdown environments. As a result, they could be met in supermarkets, retail, warehouses, food processing, chemical, pharmaceutical, clean rooms, and cold storage.
Get Quote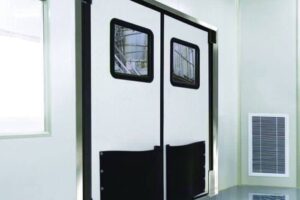 FEATURES
There are many valuable features. Firstly, they have durable, rotationally molded polyethylene construction. Also, they have standard and custom sizes up to 8' X 10′.  Plus, they have full-height corrosion-resistant aluminum panels. Moreover,  these doors have a Non-CFC urethane insulation core.
Furthermore,  they have composite V-cams upper hinges and Stainless steel rollers. Additionally, they have stainless steel lower hinge guards. Finally, these doors include virtually scratch-resistant large polycarbonate windows.
BENEFITS
Retail Impact Traffic Doors are designed for safely entering and exiting the retail environment. Also, these doors swing in both directions. Plus, they allow for swift movement without the possibility of traffic jams or collisions.
SAFER WORKERS MOVEMENT
Retail Impact Doors keep workers safe by preventing any collisions with oncoming foot traffic, loads, or with the doors themselves. Moreover, since the doors swing away from the workers, there is no risk of colliding with the door. Further, employees can safely enter and exit through these doors quickly without worrying about hitting or being hit by oncoming traffic or objects around them.
DIRECT FOOT TRAFFIC
Most businesses who use traffic doors know that the right-side door is the door to pass through. Plus, this helps direct and control foot traffic, especially in high-volume traffic areas, for a safer, more efficient entry and exit. Moreover, these extra precautions make traffic doors more efficient and even safer.
VISIBILITY
Many traffic doors install with windows as a safety measure. Also, If someone happens to be standing in front of a door or coming through the wrong side. As a result, the windows will provide visibility to that people and prevent a collision and possible injuries.
OPEN  EASILY
Traffic doors open with minimal impact and close automatically for an efficient and safe opening. Also, workers do not need to force push the door to open it. Moreover, If someone happens to be on the other side of the door, the lack of force to make it will prevent severe injuries in the unlikely event that the door ends up hitting someone.
RETAIL IMPACT TRAFFIC DOORS  INSTALLATION
Canuck Door Systems is a Chase Doors dealer, the leading manufacturer of traffic doors in North America.
Also, we install traffic doors in Toronto, Mississauga, Brampton, Vaughan, Richmond Hill, Markham, Hamilton, Burlington, Oakville, Pickering, Ajax, Oshawa, Aurora, Newmarket, and throughout South Ontario is no exception.
Canuck Doors Systems also installs Industrial Impact Traffic Doors and Flexible Traffic Doors.