Commercial Storefront Glass Aluminum Doors
Storefront Glass Aluminum Doors are designed to suit any commercial and industrial application: interior, exterior, thermally broken, insulated, etc. Also, aluminum extrusions are stocked in clear anodized, bronze anodized, and black anodized finishes. Moreover, we install Swinging Glass Aluminum Doors and Glass Aluminum Bi-Folding Doors in Toronto, Mississauga, Oakville, Brampton, Vaughan, Richmond Hill, Markham and throughout South Ontario. Besides, we believe in providing our clients with the highest quality and local products.  Finally, our solutions use optional hardware to provide multiple applications, including the exterior, non-impact storefront projects.
Storefront Swinging Glass Aluminum Doors
We offer a wide variety of Glass Aluminum Doors sich interior and exterior doors. The exterior aluminum doors are thermally broken. As a result, they provide superior insulation for your commercial property. Also, they have an excellent aesthetical presentation and modern look.  
See More
Manual Glass Aluminum Bi-Folding Doors
Canuck Door Systems provides Manual Aluminum Bi-Folding Glass Doors. Folding Doors are best for restaurants, retail stores, resorts, games venues, and automotive stores. Bi-fold doors make a brilliant alternative to traditional sliding doors. Lately, they're becoming increasingly popular for chic style and space-saving functionality. As a result, Bi-fold doors are an excellent solution for those who want to combine exterior and interior spaces. Also, they offer superb insulation and soundproofing when you close them.  
See More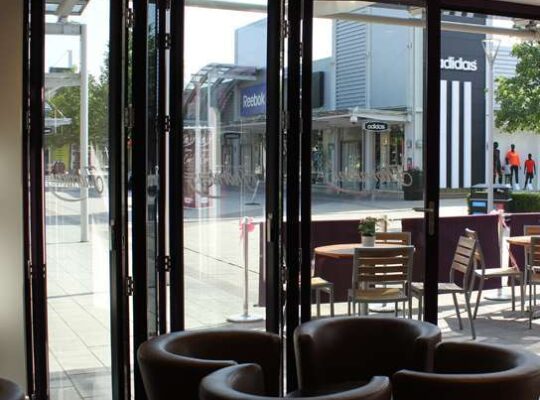 One-Stop Shop for All Your Door Needs
Canuck Door Systems Co. offers a comprehensive range of Commercial Storefront Glass Aluminum Doors. Also, Canuck's technicians install the product across the Greater Toronto Area and Southern Ontario. Besides, we offer a complete range of interior glazing sets that will suit your needs. Moreover, for over 40 years, we have assembled a fine team of qualified and innovative people to guide the Company to the premier position it currently enjoys.
CALL CANUCK NOW
1-800-522-6825
for immediate service or installation quote!
CALL NOW